Essential Elements of Religious Life
(Taken from the Sacred Congregation for Religious and Secular Institutes, ESSENTIAL ELEMENTS IN THE CHURCH'S TEACHING ON RELIGIOUS LIFE AS APPLIED TO INSTITUTES DEDICATED TO WORKS OF THE APOSTOLATE, 1983)
Consecration is the basis of religious life, emphasizing the initiative of God and the transforming relation to Him which religious life entails.
Consecration is a divine action. God calls and sets apart a person for a particular dedication to Himself. At the same time, He offers the grace for that person to respond in profound and free self-surrender. The resulting relationship is pure gift. It is a covenant of mutual love and fidelity, of communion and mission, established for God's glory, the joy of the person consecrated and the salvation of the world.
Characteristics: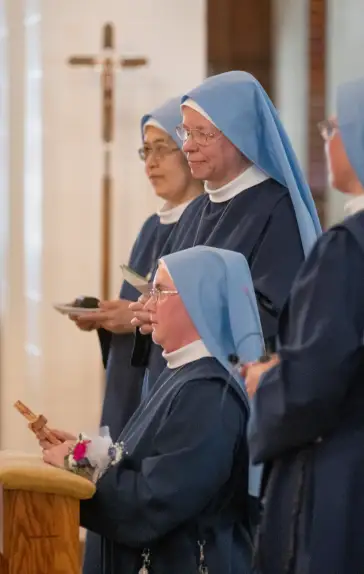 Consecration by public vows. Professing the evangelical counsels of poverty, chastity and obedience is the response to God's gift of love, which He works in the person He has chosen.
Communion in community. Religious consecration creates a particular communion between the religious and God, and in Him, between members of the same institute.
Evangelical mission. When God consecrates a person, He gives a special gift to achieve His own Kind purpose: the reconciliation and salvation of the human race.
Prayer. Religious life cannot be sustained without a deep life of prayer. We are called to a warm, personal knowledge of and communion with the risen Lord.
Asceticism. The discipline and silence necessary for prayer are a reminder of Christ's response to the Father which led Him to the solitude of the desert and the pain of the cross.
Public Witness. Of its nature, religious life is a witness that should clearly manifest the primacy of the love of God, and do so with a strength coming from the Holy Spirit.
Relation to the Church. Religious life has its own place in the Church. It is not a kind of intermediate way between clerics and laity, but comes from both as a special gift for the entire Church.
Formation. Religious formation fosters growth in the life of consecration from its earliest stages until the religious meets the Lord definitively in death.
Government. Based on faith and the reality of consecrated response to God in community and mission, the government of religious reflects the Christian hierarchy, of which the head is Christ Himself.
Mary, the joy and hope of religious life. It is especially in Mary, Mother of God and of the Church, that religious life comes to understand itself most deeply and finds its sign of certain hope.